Online dating can be both exciting and quite frustrating. It gives us an amazing opportunity to meet people that we wouldn't normally get to know in our everyday lives, and it increases the chances of finding someone you like. If you have never tried finding your potential partner online, there are some things that you should remember to make this process a lot easier. Here are some ways to start online dating:
Decide what your intentions are
People use dating apps for different reasons. Some are looking for casual sex while others are in search of the potential life partners and someone they can have a serious relationship with. Before you use a dating app or site, think about your intentions and you will filter out people who are not right for you.
Avoid being too generic
When writing down information about yourself and what you look for in another person, it's not a good idea to be generic. Yes, you are likely to attract more people that way, but are they the people you want to talk to? So, if you want your future partner to be into something specific, whether it's reading or sports, say just that and you will save yourself a lot of time.
Find the right photos
While posting a selfie as your main profile photo is fine, it is best to make sure that not all of your photos have just your face in them. Photos give you a chance to tell something interesting about yourself without having to say a word. If you want others to get in touch with you, make sure you grab their attention.
Post a photo of yourself from your travels, engaged in your hobbies, or visiting an exciting event, and you can be sure that you won't remain unnoticed. Also, don't be afraid to post silly photos, as they can be a perfect reflection of your sense of humor and prove that you don't take yourself too seriously.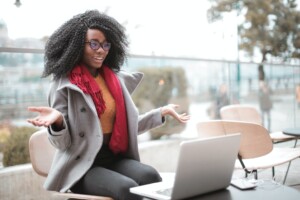 Don't drag the texting phase for too long
When you start online dating, your goal is to get to know some interesting people and possibly find the one you click with. If a person you talk to seems like someone you may like, don't postpone your meeting for too long. With online dating, it's easy to get a wrong impression of a person based on their texts and then get disappointed if they are different in real life. For this reason, don't waste your time and meet the person as soon as you can.
Always meet in public places
It may sound like obvious advice to some, but it is still something that should be mentioned. No matter how nice a person may seem over texts, you never know someone's true intentions. Once you see each other face to face, meet in a public place. What is also great about public places is that there are a lot of distractions around, so your date is less likely to become awkward if you cannot find common ground.
Value your time
Don't fall into a trap of being too nice and continue talking to someone if you know that you are absolutely not interested in them. By doing this, you waste your valuable time that could be spent getting to know other people. Online dating has an advantage in that most people don't take it too seriously, so you don't have to be afraid to offend someone too much.
Lower your initial expectations
The chances of you meeting up with the first person from the dating app and having an amazing chemistry straight away are low. But it's fine! When your expectations of how a date should go are not insanely optimistic, you can enjoy your time. You may realize that you need more time to get to know another person and make your decision, or you may think you have no desire to continue talking to them. Both options are perfectly normal and there are plenty of other people.
Stay open-minded
Sometimes it's difficult to make assumptions about someone based on the photo and profile alone. In such a way, if you suspect that you may get along with a person, it's a good idea to strike up a conversation and see where it goes. You just never know what kind of person may hide behind a profile. If you don't like what you see, you can always move on.
Online dating can be fun, especially when you approach it as something enjoyable. If you follow these tips, you are more than likely to have a nice experience.