With internet technology where access to webcam models is available 24 Hours every day of the week, it might surprise you to learn that phone fantasy lines are still high in demand.  Single men who are not in relationships can feel frustrated by not having partners to act out their fantasies.  A skilled phone actress who specializes in guiding a man through unleashing his fantasies and role playing as his scene partner will know exactly what to do to make a man feel like he has a passion partner for the minutes of time that he is paying for.  In addition, rates to chat with a phone entertainer are affordable and the exchanges take place in the comfort of the customer's home or wherever he is.  Even though there are male phone entertainers who service both male and female clientele, the phone fantasy industry is predominantly driven by male customers who seek women to talk to.  Here are the top reasons phone fantasy lines attract single men:
Needing To Be Heard
The loneliness of being single can get to a person.  While a phone sex operator (also known as a PSO) isn't physically in the room with the customer, she is willing to spend some of her time listening to the fears, questions, and secret fantasies of the man who is paying her.  Single men can often feel uncomfortable discussing their relationship thoughts with their male friends because they are afraid of being judged.  A PSO's job is to serve as a role-play partner and a therapist.  If a patron wants to ask for dating advice,  his PSO will give her opinion.  Phone entertainers want to help their clients reach maximum satisfaction, even if their requests are atypical.
Free from Being Judged
There are A LOT of fetishes that individual men have, and an experienced phone actress knows them all.  Some PSOs specifically focus on performing specialty call sessions for customers whose many fetishes include foot worship, cross dressing, water sports, domination, and submission.  Some men feel shy about sharing their fetish preferences with women who they are interested in dating.  But, a phone entertainer's role is to accept the customer for who he is and help him discreetly indulge in his appreciation for taboo topics.  This is a major reason phone fantasy lines attract single men.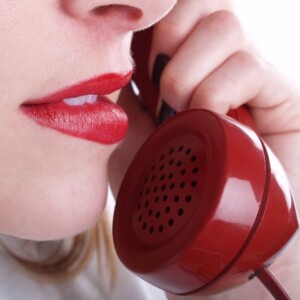 Power
Because the customer is paying for the call, he gets to decide if he wants to be in control of the role, or if he wants to submit to the lead of the phone entertainer.  Talking with a PSO gives a customer a chance to improvise and be spontaneous in the imaginary scene.  Since the voice actress on the other side of the phone line can't see what he looks like, the customer can be as handsome as he wants to describe himself to be.  The customer can also be as pathetic as he wants to be. Some men feel more aroused when they are ridiculed for having small genitalia.  If a man looks different to how he's describing himself, it makes no difference to the phone entertainer because her job is to use her voice and imagination to establish a connection with the customer.
Safety
Some fantasies are obviously not ones that you can ask just anyone to act out with you.  For instance, if you want to role-play that your car is pulled over by a police officer for speeding, and that officer seduces you in the back of the patrol car in exchange for not giving you a ticket, it is likely that an actual police officer in your local area will not risk their job to act out that scenario with you.  No need to worry about getting thrown in jail for propositioning a PSO!  Your phone entertainer of choice will happily play the role of a sexy cop who blackmails you into submitting to any and all demands.  You are perfectly safe in speaking out the most outlandish things you can think of.
Ideas
Need help thinking of ideas?  Bored with the same routine?  Phone entertainers have wild imaginations because they have heard it all.  A PSO will be happy to give you some
"homework" if you request it. Be sure to call your favorite PSO back to report on whether the homework assignment was enjoyable.  Even though you can't have actual intercourse with your PSO, the tips he/she gives you during your phone session can be used with your current partner or with a future partner.  Besides offering single men tips, phone fantasy entertainers are great for making single men feel wanted.  You won't get a girlfriend or boyfriend from establishing a paying relationship with a phone fantasy line actor.  However, you WILL get a counselor, teacher, role-playing scene partner, and if you two develop a good rapport with each other, a fun phone mate.

Latest posts by Akua Hinds
(see all)