Welcome to the year 2020 where life as we know it has a bit of a plot twist! Pandemic life can be difficult, but it is tougher on those who don't have the companionship or support of someone close to them. Dating in 2020 has become unlike anything most of us have seen in our lifetimes. But there are some upsides to be aware of, so don't fret, single people! There is hope!
Courting
We'll call this the modern day slow down. Do you remember your grandparents talking about "courting"? Or perhaps you've seen a movie where a couple would spend time to get to know one another before spending time alone, engaging in sex, or even kissing for the first time?  Weird, right?!  Hear me out. This is not a bad thing!
Most everyone is keeping social distancing in mind, especially in certain cities or countries at high risk for Covid-19. You have time to build a relationship from a distance.  How do you date without hugging or kissing? You can do this via video chat, phone call, or even while practicing social distancing on a planned date.  It is possible. It is worth it!
Online dating in 2020 is especially beneficial for meeting people, and we're thankful for that! You can take your time getting to know one another without that dreaded feeling of wasting your time after you've figured out your date just is not the person for you.  You don't want to take that risk, anyway.
If someone is pushing to meet, or just hook up, you'll know this right away instead of finding out in the field and facing any awkwardness.  Our personal boundaries have changed.  That doesn't mean there aren't still commitment-phobes out there, but for others, this is a chance to weed out what you don't want in a mate.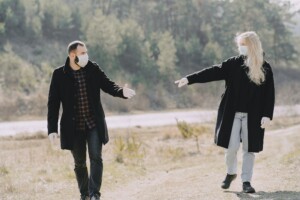 Physical Contact
Believe it or not, it is still possible and encouraged! I'm talking about sex!
The New York City Health Department has released guidance Safer Sex and Covid-19 in which they recommend sticking to one partner within the household.  If having sex with someone outside of the household, they recommend getting tested within 5-7 days after sex if it is a hook-up. They have even mentioned you might opt for sexy "Zoom parties"! OOOhhh! But definitely wear a mask during sex because heavy breathing or panting could spread the virus. They also have other options for alternative sexy time fun you can read about!
They understand that people are human and they will not stop having sex, but if they can help educate people on some safe alternatives, it may prevent the spread of the virus.
If you are not comfortable with physical contact, do not feel pressured! Just like in everyday life, you have a choice.
The Second Wave Partner
Having someone to help in your everyday life by picking dinner or a movie, keeping you company with smiles or hugs, or just listening when you need a sounding board can make an enormous difference to your wellbeing during stressful times like these. Taking the time to get to know someone the old-fashioned way while dating in 2020 can be an excellent way to find your second wave partner as we move forward to the second half of 2020 and beyond.
Be serious about spending time with people who value you and your time.  Find your tribe, not just the one-off who wants to hook up.  Everyone deserves happiness, but you need to find it within yourself before you can search to add to that happiness from someone on the outside.