Below is an excerpt from Eve Mayer's The Get It Girl Guide to Online Dating and Sextiquette telling us how to Put Yourself First and Go For It!
When I was growing up, I assumed that my mom had put her life on hold because of her love for me. There were times we didn't have much money, but I never wanted for anything. I had the best furniture, clothes, and lessons and attended the best private school in the area (which wasn't cheap). I was an only child, and my mom—and dad too—believed I came first. My parents were young, intelligent, ambitious, and in love.  Both of them had a killer sense of humor.  I had an amazing childhood, and thanks to that upbringing, I truly enjoy being the person I am today.
Nevertheless, I often wondered why I had new outfits every season while my mom wore the same clothes year after year. I wondered why I had fancy Ethan Allen furniture in my bedroom while my parents had the same old bed and mattress forever. They believed in doing everything they could for me at their own sacrifice.
Now that I have a daughter, she's the center of my life, but to be the best mom and role model I can be, I believe I have to put myself first. I must be a fulfilled and empowered woman so she can grow up to be one as well. I want her to feel that she's the center of my life, but I don't want her to believe that I don't value my own life and experiences. That's why, even though I love vacations with my daughter, I also take one on my own each year. And I'll admit it's way more fun to buy clothes for my daughter, but every few months, I indulge in a new piece of clothing for myself too.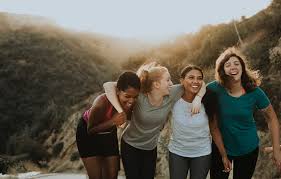 I run into many women who are devoted mothers, loving daughters, and hardworking professionals. They're so busy putting others first, they feel they must wait until later to date. I ask you: When is later?
"I'll date when the kids are older… when Mom gets better… when I make partner at my job… when I lose twenty pounds… That's when I'll finally date and find that partner I want to have in my life."
I watch these women wait and wait and wait until the kids leave for college, their moms pass away, they finally do make partner (or get passed over for someone else), they lose some weight (or not). Then do they start dating? Heck no! Now they say they're too old, too out-of-practice, or the dating scene has changed too much. They never even go after what they want, and they end up alone.
There's nothing wrong with being alone. In fact, I rather enjoy it. Many people prefer it as a permanent lifestyle choice. I'm speaking to the women who don't want to be alone forever, the women who want a lover, a boyfriend, or a husband. Here's what I have to say: Stop putting everyone else first. Put yourself first and go for it!
Stop putting everyone else first. Put yourself first and go for it!
When my divorce was finalized, I waited exactly one day before going out on a date. Was I scared? You're damn right I was scared, and that was exactly why I didn't wait. The excuses I could have made were too tempting—my adorable daughter, my growing company, my sick mom–and I knew that if I started making excuses, I would never stop.
Instead, I chose to run toward my fear. And I want you to do the same.
Think about it. You will never, ever be younger than you are right now. Unless you have a boatload of money for serious Botox or plastic surgery, you're never going to have fewer wrinkles than you do now. And if you take a realistic look at your history in terms of weight, chances are you may never lose those twenty extra pounds you've carried around for the past twenty years.
Your excuses are fictions, and only you have the power to stop making them up. I chose not to fall back on those stories and deal in realities. As a result, I date often and enjoy the kind of attention from men I want while running a successful company, helping out with my mom, and raising one of the most amazing six-year-olds in the world. You can do it too. It just takes guts.
This is an excerpt from Eve Mayer's book The Get It Girl Guide to Online Dating and Sextiquette  available on Amazon

Latest posts by Eve Mayer
(see all)