If you have a dinner date planned with a woman you like, you need to pay attention to these 5 ways to impress a woman on a dinner date because the key in this venue is all about wowing her with a great conversation.
You must take your evening up a notch, and not taking her to the most expensive restaurant out there, or ordering the nicest bottle of wine. Honestly, for a quality woman, those things are not important. If she's not looking for luxury, what does she want? I'll tell you.
1. Make eye contact and smile
The best way to show a woman you're interested in her is to look her right in the eyes and let her feel you listening to her. When she tells you a story about her growing up on a farm in Kansas, remember to ask follow-up questions and show her you were paying attention.
2. Show her you want to get to know her
She wants to feel like you see her as more than just another fish in the dating pond. It's important that you make it clear that you're interested in getting to know her for who she is. Therefore, ask her something personal, like, "what's your favorite thing to do on the weekends?" Or, "What would you do tomorrow if money was no object?" Chime in with your own answer as well.
3. Compliment her on specific details
Whether you like her dress, her captivating smile, or long locks of beautiful hair, make sure she knows you find her attractive. There is a fine line not to cross regarding this though. Don't overly gush on her and make yourself seem desperate. Let her know you like what you see, but leave it at that.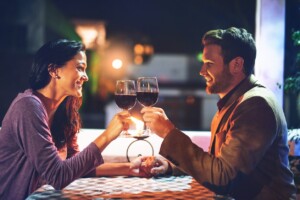 4. Be polite and show some confidence
Speak clearly and politely to everyone you interact with, including the waiter. Feel free to order any shared items, but let her order her own food.
5. Don't let her pay for the meal
Most women will offer to at the very least split the meal with you. If this is a first date especially, I don't want you to let her pay. Impress the woman! One of the sweetest guys I went out with told me when I offered to pay for dinner that a woman spends a lot more time getting ready, a lot more money to make herself look nice on clothes and haircuts, not to mention paying for a babysitter, and the least he could do was to take me out to dinner.
The most important thing to remember is to be yourself. If you follow these simple, yet practical guidelines, I have a feeling that when she calls her best friend, the next day to fill her in on her date she'll say, "You won't believe the fantastic date I had yesterday." Keep in mine my motto on your next dinner date and you will be successful: every moment you impress a woman, don't let another second pass you by!

Latest posts by Meena Avery
(see all)