Everyone knows that dating can be challenging. Why is it that people often feel anxious before a date? As a psychologist and dating coach singles often worry that they may be stood up, judged, rejected, lied to or that they may feel bad about having to reject someone else. This dating process isn't easy, but it's necessary and it's important to learn how to remain in high self-esteem through the ups and downs. We can also learn how to manage our nerves and to shift back into a state of love, centeredness and authenticity. Below are 5 Tools to Calm Your Dating Nerves.
1. Review What Is Great About You
Take a realistic look at yourself and write out 20 things that are wonderful. Don't compare yourself to others, ie don't say, 'I'm pretty but not as gorgeous as Tanya.' This is toxic. Stick to what is positive and true, like, 'I have beautiful hair' and 'I am a kind person.' You get the idea. If you feel stuck, ask your best friend or parent what they love about you. Then read this list before your date and remember why a potential date would be lucky to meet you.
2. Do Affirmations
Affirmations means speaking what you want to happen in present positive terms. For example, an affirmation around dating could be, 'I meet someone physically and emotionally available and kind, like me' or, 'Dating is a fun opportunity to meet new people and to learn about myself.' You can think of what speaks to you but affirmations give you a positive context which then affects your attitude and actions on that date.
3. Take a Sacred Bath
Baths are very relaxing and they are a terrific place to let all negative thoughts, beliefs and fears go down the drain and to visualize what you want instead. This is powerful. Imagine yourself bathing in love. In my recent book, The Book of Sacred Baths published by Llewellyn, I have several dating baths that can help you wash away a bad date, open your heart and more. These baths include a meditation, visualization and prayer, all of which also relax you.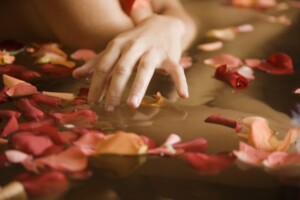 4. Do Progressive Muscle Relaxation (PMR)
Progressive Muscle Relaxation involves monitoring tension in specific muscle groups in the body by deliberately inducing tension. This tension is then released, with attention paid to the contrast between tension and relaxation. I have found that by focusing on relaxing your body, you'll often forget your anxious thoughts and feel calm. You can search for 'Progressive Muscle Relaxation' MP3's on Amazon for 99 cents and put one on your phone to do for 10 minutes before your date.
5. Try Deep Breathing
Deep breathing really relaxes you and puts you into your healing nervous system instead of your, 'fight and flight' one. You can even do a deep breathing session on You tube for free. Here's one example. Most of you will feel much more peaceful and expanded after doing a few rounds of this, and you can even do it at your desk at work before you go out.
There are many situations in life where it helps to have easy, accessible tools that can shift you from fear into love. I hope that these 5 Tools to Calm Your Dating Nerves will be helpful to you in your dating process and otherwise.
My Best in Love,
Paulette

Latest posts by Dr. Paulette Kouffman Sherman
(see all)