Self-confidence is a dating magnet, but it can be tough to keep yours when you're surrounded by rejection. These 5 Techniques to Stay Confident When Dating help you keep your self-assurance and have some fun!
Have friends who understand being single
Staying confident when dating comes from within you and you need a support system who can keep you centered. Those who have forgotten what it's like to date might not have the patience to listen to your concerns and help you work through them. Have people around you who will listen, can offer meaningful feedback, and encourage you to keep trying. If you don't have any single friends, or they don't know any more than you do about dating, consider working with a coach.
Get a new look
We've all seen the TV programs about masterful head-to-toe makeovers and the emergence of a drastic new look. You don't need that. You need to get a great haircut or try some new make up or buy a new outfit or a pair of jeans that shows off your assets. Something that makes you feel fantastic every time you use it or put it on. The confidence oozing from you will be noticed.
Make a list of what makes you a great catch
Along with figuring out your dating standards for who you want him to be, make a list of all the reasons you are a great catch. You might be surprised by how long it is. Whenever the rejection in dating gets to be too much, get out the list and remember why you are worthy of dating.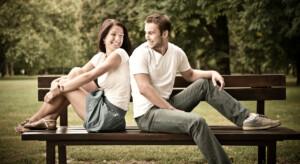 Taking a break helps you stay confident when dating
The moment you are so frustrated with dating that you can't get ready for one without cringing, it's time for a break. This time away from the process gives you some distance and an opportunity to start fresh with renewed energy for finding love.
It's only one date
A bad date is only one evening and remembering that will help you when you're ready to totally give up on dating. To stay confident in dating you must recognize that each date is an opportunity to learn something new about yourself or the dating process. Who knows…the next date might be the man you've been waiting for.
Image courtesy of stockimages at FreeDigitalPhotos.net.

Latest posts by Debra Kunz
(see all)