Stalkers can seem like a super fun, regular person when you first meet them. There are however some safety tips to avoid stalkers if they're just trying to get to know you, or if they're someone you might need to take a restraining order against in the future. For example: if you get all kinds of phone calls so you feel really popular, sometimes they are genuinely interested in getting to know you, other times if they are trying to find out where you are or what you're doing all the time; and that's too much. Do they send you a lot of text messages wishing you "good morning", and "good night", or are they sending you excessive creepy texts that make you feel like they're checking up on you, what you've been doing, or where you're heading. Listen to your to your intuition. If it feels odd, it probably is!
Here are some safety tips to avoid stalkers:
Don't let them know where you live too early on
While it's always fun to spend time snuggling on the couch watching a movie with someone, it's important to not let them in too early in the relationship. Get to know him a little bit before you show him your home to make sure he won't stand outside your front door if things go south.
Be aware of how much you share on social media
It's surprising how much we post online. We give away a lot of details about ourselves–phone numbers, websites, work information, and where we've been. Sometimes it's better to err on the side of caution when we choose our privacy settings.
Let your friends know where you are
If you're going out with someone new, always let them know where you'll be. It's a good rule of thumb to give someone the skinny on what the plans are. It usually will be fine, but it's always comforting to know that there's someone there for you in case of emergency.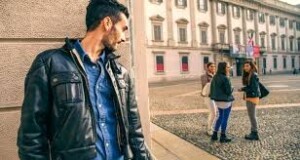 Meet in a public place
When you meet someone from an online dating site, a safe way to go about it is by meeting in a public place such as Starbucks or a restaurant.
Google them first
This may come across as stalker-ish in itself, but it's 2020, and while there are a lot of great people out there, but a few weirdo's who lie on their profiles. Don't take your chances, and find out who they are before you meet.
While some of these tips can definitely seem to take the romance out of getting to know  someone, it's better than the alternative.
Remember to stay safe and happy dating!

Latest posts by Rachel Nielsen
(see all)