Dates can be nerve wrecking. There is so much to think about from what to wear to where to go to logistics to what to talk about to and of course to how the date ends. But first things first,  the key to a great relationship is not only the chemistry but the communication. A good conversationalist is sexy. So, we are going to share 5 date conversations to get you started on what's sure to be a date to remember!
Conversations Must Be Natural And Relatable
You want to impress of course, but you don't want to come across as boastful. Your main objective is to make your date feel comfortable and get to know something about them. Have some key pieces of information you want to know about them in mind. For example, you may want to know if they are divorced, have children, are close with their families, have friends and diversity of their interests. You may want to find out something as trivial as if they like golf to as serious as if they would be open to having or adopting children.
Don't make your conversation like an interview because this is not a job interview. There are certain topics that are appropriate and others that are not for a date. Focus on conversations that allow you to share who you are while at the same time extracting any information you want to get from your date.
5 Date Conversations to get you Started:
1. Ask about their families and funny stories about their siblings or parents.
2. Ask about their favorite hobbies and how they got involved in it.
3. Ask about their job from what they do and if they like it. Don't ask how much they make!! You can go philosophical and ask what they would do if they won the lottery.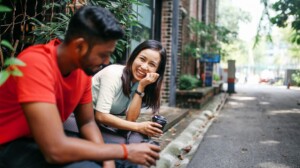 4. Ask if they like to travel and if they have a favorite place they have traveled to or they have a dream destination.
5. Ask if they have any children and focus on how they feel about them and what things they see in them as a parent and of course a funny story is always a fun to hear. Do not ask about problems in their marriage or what broke up past relationships. If it is brought up, do not focus on it. This is something you want to know and need to know, but that should happen a few dates in.
Bonus Tip: You can find out their religion and get a sense of how religious or spiritual they are, but I recommend you shy away from debates on religion and politics until you get to know each other better. It is important to know your values are aligned and you can do so subtly and tactfully without seeming intrusive.
Be Prepared With Talking Points
Have talking points prepared so you are not stuck for something to say or talk about. Think about the top five things you want to know about this person. This does not mean you pull out a sheet of questions on it. That would be a no-no. I had a date do this to me. He came to the date with a briefcase (yes, a briefcase) and sat it on the table, clicked it open and pulled out several sheets of paper with questions on it and proceeded to ask me a list of odd questions. I wanted to propel myself from the table and almost did, but the writer in me stayed just to see how bad it got. And it did. I wound up fleeing the restaurant ultimately. Use this as an example of what not to do so at the end of your date you're left wanting to know about your date & your date wanting to know more about you! Did someone say second date?
What is your go to first date conversation topic? Please comment below!

Latest posts by LifeBytes
(see all)