Ever wondered what it is that men and women do following a first date to mess it all up? Well, wonder no more! There is an exhaustive list of follow up first date blunders but I have managed to narrow it down to just 10. Watch out for any of these soon after a first date and then avoid like the plague.
10 Follow Up First Date Blunders
1. I Love You
Following your first date, he/she tells you he loves you. Run for the hills.
2. Repeat Date
Your first date was a coffee or a drink, your second date is another coffee or a drink. Where is the imagination? Walk away now.
3. Meeting Family
Your first date went so well that he wants to take you to dinner…and meet his family. Too soon, perhaps?!
4. Tongue Action
You enjoyed a romantic kiss after the first date, on the second date he gropes your ass and licks your ear – yuck!
5. Status
After a pleasant first date, you are bombarded with text messages, emails and they update their Facebook status as 'in a relationship'. There may be trouble ahead.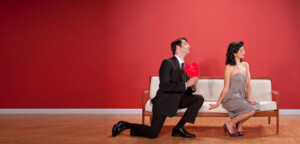 6. Holiday Hell
He wants to take you on an all-expenses paid vacation abroad. You still do not know his surname. That's a no.
7. Child-Like Behaviour
After seeing you to your door at the end of Date 2, he asks if he could come in and then sulks like a child when you say no. Just bad.
8. King of Romance
For your second date, he pulls out all the romantic stops – candle-lit dinner, violins, roses and even serenades you outside your bedroom window. You just want to go to bed.
9. Stalker
You discover he or she has found out where you work and turned up to take you to lunch or dinner with no warning. A little scary, me thinks.
10.  Blogging
You have blogged about the date…and he or she finds out. Big mistake!
Have any of those happened to you? Please leave a comment and let me know. Let's hope and pray that these follow up first date blunders can be shared so that people on dates do not have to endure anymore of these behaviours.

Latest posts by Alexandra
(see all)