These are the 5 adult toys everyone will be talking about in 2020
Winter is coming, and so are you….
The end of December has everyone thinking about new year's resolutions—from planning to eat healthier to sticking to a new workout to taking better care of your skin. (No more sleeping in my makeup!) But going into a new year can also be an exciting time to explore your sexuality, and sex toys are a fun way to spice things up or treat yourself to some sensual self-care.
If you're new to sex toys or your go-to vibrator isn't giving you the knee-buckling orgasms it used to, check out our list of the sexy devices that will be huge this year, including bedazzled toys, masturbators, BDSM props, and multi-tasking wands to shock your kegels and trigger insanely pleasurable Os.
Not sure where to start?
We've enlisted the help of experts—founder and Founder of the Magic Ball and Sexologist Dr. Bei from Los Angeles California. who developed from his Sex therapy sessions a product and strategy for the improvement of sexual function and treatment of sexual dysfunction. So, whether you're exploring these with a partner or solo, scroll for the best gadgets for each category, then find out how they can rev things up in the bedroom and beyond.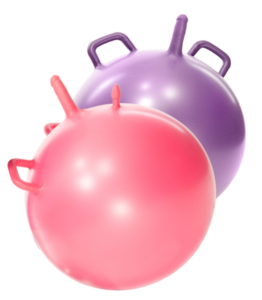 The Magic Ball is an amazing sex toy made for men and women who love being on top. It uniquely joins a dildo (or dildo/anal plug combo on the Double model) with a sturdy, inflatable cushion. The Magic Ball is the ideal bedroom accessory for men, women and couples who want spice it up behind closed doors, but want discreet storage. Once deflated, the Magic Ball can be stored under the bed. Bounce in place and enjoy the deep penetrating dildo, while getting exercise and pleasured at the same time. The Magic Ball's firm dildo is permanently mounted. It's the perfect size with enough girth and shaft to satisfy, but never overwhelm. With the realistic shape, tapered head and vein-like texture on the shaft, you'll enjoy every stroke. Double your pleasure with the Double models that also have a permanently mounted anal plug. Women can use both plugs at the same time or individually. Men can hop on the ball and use the anal plug or dildo for prostate stimulation.
2. Intercourse enhancers: Pleasure Rings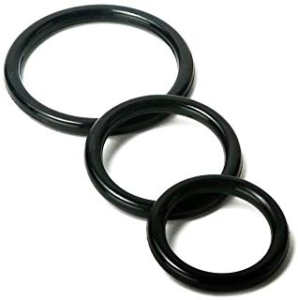 While the idea of introducing pleasure devices into the bedroom is not new, they are definitely becoming more mainstream. As a result, couples are becoming more adventurous, and this trend will continue into 2019, says Colvin. Specifically, the CalExotics team is seeing an increase in men using a sex toy during intercourse. "They view sex toys as an aid in the bedroom, not a replacement," she adds. This pleasure ring is a perfect gateway for beginners to turn up the heat. It sits at the base of his penis, giving you both extra vibrations during the main event. Since it's made of waterproof silicone, you can enjoy it in the bath or shower, too.
3. Mainstream BDSM: Leather Flogger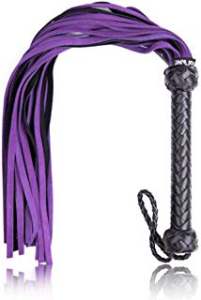 There's always been a percentage of people into BDSM, and Hollywood scratched the kink surface with the Fifty Shades franchise; the most recent film in the hit series was in theaters in 2018. More partners than ever are realizing that they can add a level of BDSM to their sex life that fits their personal comfort zone.
In the past, "those who were curious or into some elements of BDSM, but at a lighter level, didn't have too many choices, because most BDSM toys were for hardcore practitioners or were gag-gift products," explains McDevitt. Thanks to the higher interest, more BDSM-curious options are now available, like cuffs, collars, ball gags, and floggers—such as this one, which can be used for exotic and erotic role-playing scenarios.
4. Sex games: Vibrating Panties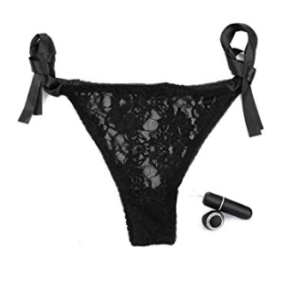 Gaming is a huge trend, and Colvin sees that crossing over into sex toys. "The idea of having a 'controller' that offers pleasure is exciting for many people; plus, the secret between lovers adds even more thrill," she points out.
Vibrating panties have been around for a few years, and they've even been featured in some movies. What's trendy for 2019 are panties made with better technology, so they're even more fun to play with and have an element of remote control. "The technology is now quiet enough to make it practical to actually go out in public and tease your partner by pressing a button," adds Dr. Bei.
5. Toys for guys: Masturbators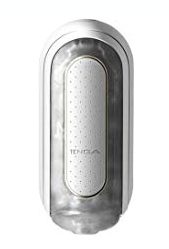 The stigma around masturbation is fading, and along with that, masturbation toys are on the rise, specifically male masturbators, says Bei. "These have been growing in popularity as men become more open to the idea of sex toys, and as they become more knowledgeable of the vast amount of products available to aid and amp up their pleasure." This vibrating sleeve is great for solo play or for couples who want to spice up foreplay before the bumping and grinding.