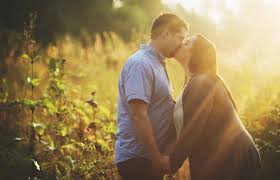 On the Cusp of 35, Is A Romance of a Lifetime In My Future? by @SoloAt30
As friends are getting engaged, planning weddings and having babies, I can't help but ponder my own romantic life, on the cusp of turning 35. I know I barely look 21, but there it is—the clock keeps ticking. Is a romance of a lifetime in my future?
Now in my mid-thirties, I have been around the block more than a few times. I've been in several-year-long relationships, lived with boyfriends, planned futures and seriously considered being a step-mom. I've had an open mind and an open heart, sometimes too much so, but here I am—35 years old, never been married and no kids.
Don't get me wrong. I don't believe that life is a race. I'm no longer the naïve teenager who believed she'd be married immediately after college and have two kids by the age of 30. I don't feel like I've missed out because I didn't immediately hitch my life with someone else's as soon as I felt a deeper connection. I could  at several different points. Yet I trusted my gut that the relationship wasn't quite right, or that I wasn't yet ready—or he wasn't  Or I realized that as much as I loved someone, the problems we had as a couple were insurmountable for long-term sustainability.
Glad I Refused to Settle
The man I am dating now, who is a year older than I am, and I often talk about how we are grateful for all the experiences that we have had over the years. Whenever we are ready to join our lives with someone for good, we'll never have to say, "But I never got the chance to…" nor wonder, "What if…?"
A friend of mine had a first date with a guy she met online. They felt like soul mates immediately. After four dates, he proposed to her, she said yes, and they are seriously planning a wedding—engagement ring, bridesmaids, wedding dresses and all. At first I thought she was out of her mind, or desperate to make everything happen NOW. But after seeing how they've bonded the last several weeks, and the wedding plans continue to grow, I am starting to think maybe there's truth to what she said: "When you know, you just know."
One of my closest and oldest friends dated her boyfriend for about as long as I've been with the Warrior Poet when they got engaged. When they eloped, I didn't have a doubt she knew what she was doing. Though she was young, I knew she knew herself well enough to trust what her heart was telling her. Best friends and lovers, as it should be, they've been married for 12 years and have two daughters. When I see them together, I admire the way they so openly and honestly communicate and still romance each other. But I have to admit there is that part of me that wonders, "When is it going to be my turn?"
A Romance of a Lifetime
I am not going to lie— I've thought I've known someone was the one before, and time told me I was wrong. While it broke my heart to realize my mistake, I won't ever regret the incredible feelings or experiences shared. Some things simply aren't meant to last.
I'd like to think that time and experience have made me wiser and more in tune with myself—both my desires and my needs. I can see people with clearer and kinder eyes. I realize that I'm not looking for perfection—the right fit for me may come along at any time, in any form. I plan to keep living my life to the fullest, working on growing into the best version of me so that whether I am 35 or 55, if I am so blessed, I'll be ready when my romance of a lifetime catches fire.
If this article gave you the confidence to find your match, try Singles Warehouse today!