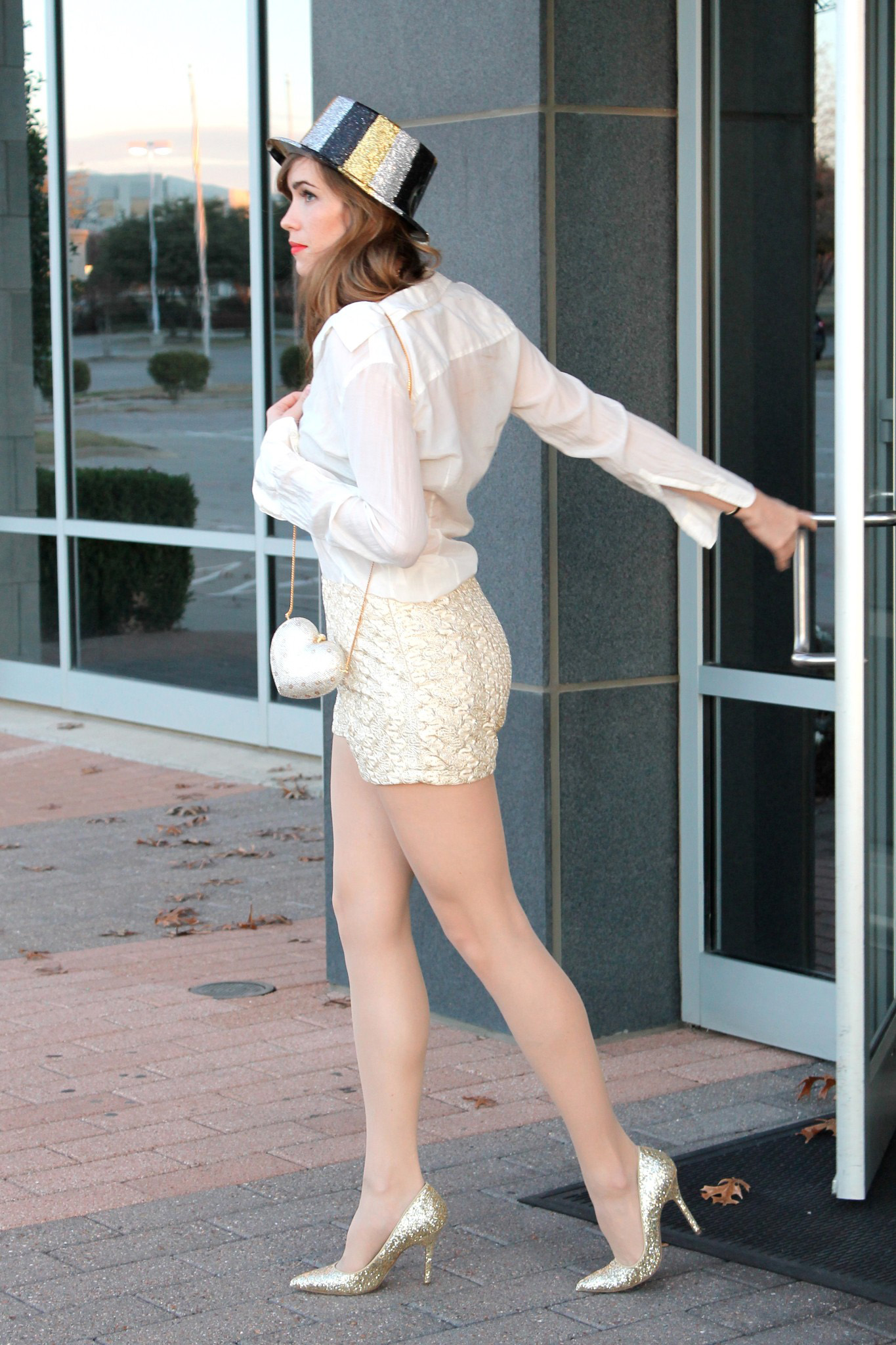 Holiday Attire: How to Celebrate in Style by @DatingDallas
Holiday Parties and the ever exciting New Year's Eve give us women plenty of opportunities to stand out of the crowd and get noticed by what we wear. So, in order to help you dress to impress, I have put together a few of my Holiday Fashion favorites, along with links to websites of where you can purchase these items.
Outfit #1: Versatile Shimmer Shorts and Shoes
Many people say that Holiday parties typically require a dress, but I beg to differ. I personally think that a fancy top, with black jeans or sparkly shorts with a long-sleeved blouse will do the trick.
Above I am wearing gold Zigi Soho Lala Pumps, gold glitter shorts, a white button down blouse, a gold chunky necklace and a silver & gold two-toned rhinestone purse.
My suggestions for an outfit similar to this:
Shorts: Festivity Sequin Shorts from Ruche
Clutch: Chain Mesh Clutch from Forever 21
Earrings: Sparkling Charm Earrings from Forever 21
Shoes: Chelsea Suede Bootie by Michael Kors
Top: White Button-down Blouse (from anywhere!)
**This outfit would be perfect for a night out on the town, a date, or even for New Year's Eve.
Outfit #2: Sparkle dress and Fancy Shoes
Sparkles are a great way to spruce up your look, especially if you love to accessorise. However, sometimes I think that too much sparkle can overpower you and hide who you really are, so you need to be careful with how much you wear.
For example, if you wear a sequin dress, don't wear a chunky necklace, earrings, clutch and shoes—wear sparkles intelligently by trying to wear splashes of it—whether it's a big splash, like a dress, or small splashes like accessories.
I personally love to focus an outfit around a fantastic pair of shoes, like the Betsey Johnson hot-pink velvet heels below.
Above I am wearing a grey shimmer dress with fabulous hot-pink velvet Betsey Johnson heels and a rhinestone, heart shaped clutch. I chose to go without any large jewelry as I felt I was wearing plenty of glitz already.
For an outfit similar to this, I suggest the following:
Dress: Tinsel Town Metallic Dress by Ruche
Heels: Delightfully Dainty Magenta Heels by Ruche
Clutch: Sequined Heart Minaudiere by Forever 21
Necklace: Tri-toned Bejeweled Necklace by Forever 21
** This outfit is perfect for Girls Night Out, a Holiday Party or New Year's Eve
Outfit #3: Fancy Dinner/Date, Ball, or New Year's Eve
Some people might tell you to stay away from the colour black on NYE, but I think there's a way to wear it and still stand out. In my opinion, I think every woman needs to have a fantastic, classy, sexy and versatile "little black dress." If you don't have one, definitely invest in one that makes you walk with confidence!
Saving my personal favourite for last, this dress was given to me by my grandmother who was a ball-room dancer and wore this on the dance floor. I love it mainly for the small beading along the neckline, wrists and waist, but also for the sheer sleeves. There's something so classy, in my opinion, about a dress like this.
In the photos above, I am wearing my Grandmothers Neiman Marcus dress, Betsey Johnson black pumps, a black sequin clutch and polka-dotted tights from Ruche.
To purchase something like this, I recommend:
Dress: Donna Morgan Sequin Cuff Dress from Nordstrom.
Heels: Falling For Glitter Bow Heels from Ruche
Tights: Little Dots Alluring Tights in Black from Ruche
Clutch: Moyna Beaded Foldover from Nordstrom
Earrings: Floral Vine Drop Earrings from Forever 21
** This outfit is perfect for New Year's Eve, a Ball, or a Formal Event
Tip #1: The Holidays are great opportunities to have fun with your outfit—so experiment away! By adding a bold necklace, or a statement piece such as a rhinestone clutch or glitter shoes, you can complete your outfit with class and set yourself apart from the crow in a positive way!
Tip #2: Sequined dresses are synonymous with NYE, but they're not really my favorite. Sequins sometimes do not flatter every body type, and I think that it's better to find a shimmer or sparkly dress that enhances your silhouette instead of purchasing something just because it's popular that adds to your silhouette.
Other fantastic pieces I have been drooling over are a Red Velvet dress from Ruche and a Black Velvet Romper from Nordstrom. Both are fantastic Holiday wears and if you wore them to a party that I was at, I'd be jealous!
Happy Holidays and remember not to be afraid to stand out of the crowd! You never know who might be looking 🙂