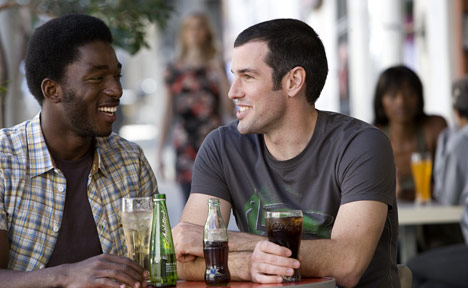 6 Tips On How to Ace A Gay First Date by @Instigaytor
So you got his name, got his number, had a few conversations via phone and text and there's some talk about going the two of you going on a date. You are excited about getting some face time, but also nervous because you are not sure of how things will turn out. Where to go and what should you do? Will you guys hit it off or will the evening be riddled with awkward silence? Will you still find each other attractive upon second look? Will this be your first and last gay date you have with this person?
Dating is hard enough but when you add the pressure of trying to create an awesome gay first date, you could very well sabotage yourself before you even get started.
Luckily for you, I'm going to let you in on a few tricks that will not only take the edge off of planning your gay first date, but also increase your chances of scoring a second and quite possibly a third.
Here are 6 of my best tips on how to make sure your gay first date is not your last.
1. Get your expectations in check
The best way to ensure you leave your date disappointed is to go into it having the wrong expectations. Sure you want to find a boyfriend but your number one goal for this first date, is to get to know this person and see if there is fluid chemistry. Go in, have a good time and use that as your basis on whether or not there is an opportunity for it to become something more.
2. No dinner or movie first dates
Both of these defeat the purpose of a first date because they interrupt the flow of conversation. If you do a dinner date, there will be a period of silence because it's rude to talk with your mouth full. Same for movies, there is at least 90 minutes where you will not be speaking with each other. Any type of silence during a first date will be awkward so try to avoid it at all costs.
3. No first dates on Friday or Saturday nights
These are nights where most singles have things planned with their friends. This means that the slightest upset during that date, your date will automatically be thinking "I could have been…." Also, Friday and Saturday nights are busy times for most venues so all that uninterrupted conversational time is probably not going to happen. Try and stick to Sunday – Thursdays for first dates. It makes a difference.
4. Be a gentleman… ALWAYS
Manners are sexy and they will take you far. Make sure you are always being considerate and polite to your date and anyone else for that matter. The way you treat others will stand out in your dates mind.
5. Create some intimacy
An easy trick to create intimacy during a first date is to sit next to your date and not across from them. It takes the "interrogation" factor out of the encounter and allows the both of you to vibe off of each other's energy. If the chemistry is there and you have created an intimate environment, your date might even be inclined to steal a kiss sooner rather than later in the evening.
6. Secure your second date at the end of the first
In the sales field, you never leave business on the table. The same thing goes for gay dating. If you had a good time on your first date, secure that second date before you two part ways. Most the times, it's as simple as asking. To be even more strategic, include a day so your date knows you're genuinely interested.
Example: "I had a really nice time tonight. Let's do this again soon. Maybe Tuesday night, you can show me how to (insert one of date's hobbies)"
Comments, questions or have a gay dating tip to share? Leave it in the comments section below and let us know what you think. Don't forget to visit www.instigaytor.com for additional advice from the gay dating experts!