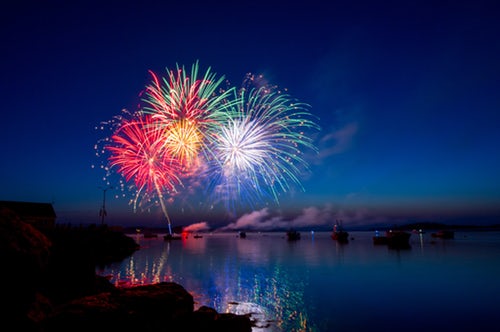 Writing New Year's Resolutions Early: Resolving to Find Love by @FindRichHusband
Last Saturday night, I decided it was a good time to get an early jump on a handful of my 2013 new year's resolutions. I sat blurry-eyed and drunk on a late-night home-bound train, both sad and elated at having just a few hours earlier, ended a serious relationship.
Starting Sunday, I would:
Drink less whiskey on Saturday nights, and Manage my relationships better.
"Manage my relationships better"
When I woke up with a headache and that every-so-slight glassy-eyed look of someone ready to cry at the drop of a hat, I realized this new year's resolution was a variation on a recurring theme in my resolution making.
January 1st is the universally accepted date of renewal — the calendar starts afresh and we get to put behind all the foibles of the year(s) past. As we embrace the new calendar, we make lists of resolutions, of self-made promises to motivate us through the next 365 days. Sometimes, it seems right to start on those resolutions a little earlier. And what better time to get a jump on New Year's Resolutions than at the end of an old relationship?
Resolving to Find Love and My Past New Year's Resolutions 
My custom before setting goals for the new year is to flip through old notebooks and diaries searching for records of New Year's Resolutions past, evaluating my success and accepting my shortcomings. There were a number of constants over the years, namely the universal standards:
Lose weight.
Find Love.
Write a book.
Clean basement.
Find inner peace… Optional and for extra credit: join movement to bring about World Peace.
It occurred to me that "Find Love" was the most challenging of the goals.
[quote align="right" color="#999999″]"Find love" — it's an active, commanding statement that puts the quest for Love Everlasting on par with "lose weight."[/quote]
Find Love — it implies that, just as a regimented diet and exercise routine gives me power over my waistline, I have some control over Cupid and his henchmen. It implies that if I grab the bull by the horns, leave no stone unturned and tear the curtains asunder, there will be a shining treasure waiting for me. If I just look or work hard enough…
Let's be honest, when it comes to finding love, there are far too many stones in need of turning.
In 2006, I resolved "to fall in love." This was a mistake. Falling in love is easy and, much to my eventual chagrin, I accomplished the mission before midyear.
So in 2007, I needed a sequel resolution: Make "Bob" fall in love with me. Again, I had conjured a statement that implied I was Venus and Cupid was at my beck-and-call…
It may come as a surprise to you that as of January 1, 2008, I was on a mission to "Fall out of love with 'Bob.'"
By 2010, after a 2009 dedicated to "Letting Love Find Me," I had a new journal and a new outlook on resolutions.
On January 2nd, 2012, I had been an online dater for nearly 6 months and had finally arranged to meet the man who had first caught my eye but who I was too intimidated to contact before then. While by this time I had given up on resolutions altogether, especially any pertaining to true love and its finding, I figured this was the best possible way to start the New Year.
A First Date on the First Real Day of 2012.
I'll add, it was our only date. 6 months later, we met for dinner as friends.
While resolving to find love might be as futile a resolution as resolving to win the lottery, I am willing to admit that the New Year is  good time to reconsider your outlook on dating and relationships.
Whatever didn't work in your year past, can be tossed and replaced for your year new.
So far, my new plan for finding love in 2013 is drink less whiskey at social events.
If this article gave you the confidence to find your match, try Singles Warehouse today!