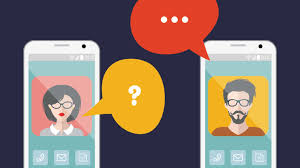 WINNING ONLINE DATING MESSAGE STRATEGIES by @DatingAdviceGrl
After careful consideration, you've finally decided to try online dating. Good for you!! You've searched through hundreds of profiles and you've stumbled upon a few interesting singles, but what do you do next? You want to send your online crush a message, but you're not sure how to catch and keep his or her attention. Here are a few tips to make sure your online correspondence is helping you to meet people, not hurting you…
1. Stay away from questions that are too personal early on
Avoid asking about things that could cause a negative reaction, like details of a divorce, for example. Check out your crush's profile and find a lighthearted subject that peaks your interest. He or she is sure to mention something that you'll find intriguing…something that won't make either of your uncomfortable. Also, don't share every person detail of your life via online mail. Make sure there are a few topics you haven't discussed at length so they can be discussed on a date. There's nothing worse than running out of things to talk about on your date because you were overly anxious during the online process.
2. Don't overdo it
Send no more than 2 initial messages in the beginning…if you don't hear a response, move on to someone else. With online dating as with regular dating, you don't want to wear out your welcome. If you don't get a timely response after two messages, it's time to move on and find someone who would be happy to make your acquaintance.
3. Respond in a timely manner
If you are interested in someone, don't let too much time go by before responding to a message. The more time goes by, the more you run the risk of your crush loosing interest and thinking that you are playing games with him or her. After receiving a message, it's generally considered polite to reply anywhere from the same day to a couple days after receiving the initial message. Remember, you are on an online dating site to meet people, not turn off people.
4. Only give your personal information when you're ready.
The great thing about online dating websites is that you can correspond on the site as long as you want without divulging private contact information. Only offer up a personal email or phone number when you feel comfortable. For some singles, that may be after the first successful face to face date and for others that may be once a few online messages have been exchanged. It's up to you, but since you are meeting new people virtually, it's important to remember to be smart and safe while in the process.
It can be easy to fall into the trap of only sending messages back and forth and accidentally become a pen pal rather than a potential love-interest. At some point one of you should suggest calling each other and/or meeting in person. Either one is acceptable depending on the conversations and level of interest you have with your online partner. Just a reminder…if someone is genuinely interested in dating you, he or she will arrange to hear your voice and see your face sooner rather than later.
Online messages on dating sites are your initial way of meeting potential dates. A virtual first impression is still impactful and should be taken seriously if you see a person and a profile that seems promising. Your messages are your introduction. And your introduction is everything when navigating the online landscape.
Hugs,
Erin 'The Dating Advice Girl'