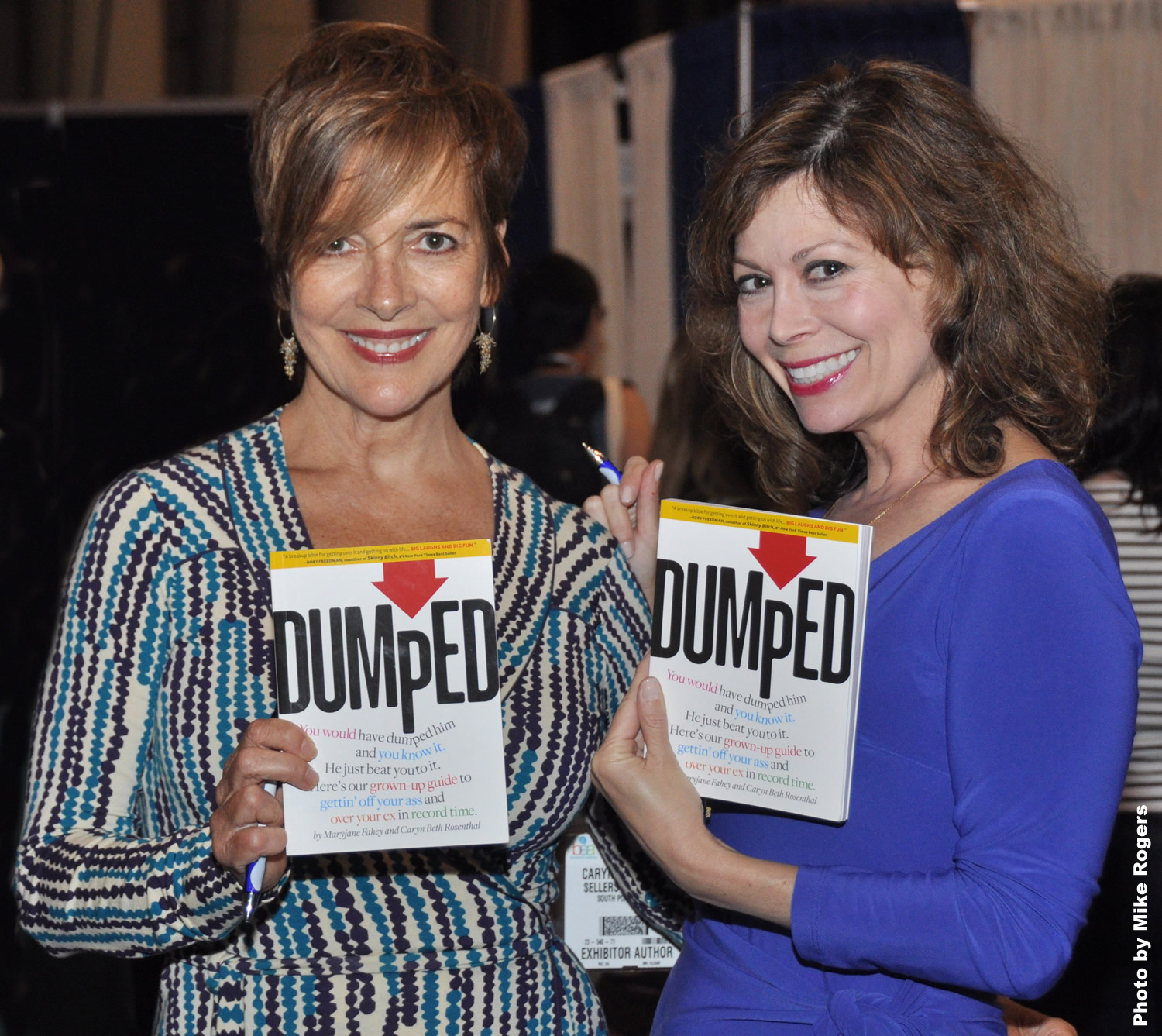 Q & A With The Authors of "Dumped" by @SingleDatingDiv
Singles Warehouse is very excited to speak with the authors of one of the most revolutionary books on breaking up.  It's your prescription for dealing with it, getting over it and moving on.
What inspired you to write "Dumped"?
e wanted to write the book that we could not find. When we were working on getting our 'UMPH' back, all we found were books written by men – what's up with that? – or long, sappy, self-indulgent ones designed in putrid pastels that took you to page 156 for the first tip. We wanted to make a fun, sassy, empowering, direct little breakup bible that would be the opposite of all these self-help books we wasted our time reading. A post-breakup guide that would give a girl a much-needed kick in the ass and a laugh when she needed it most from two fabulous women who'd been through it.
Who is the target audience for the book?
Women…of all ages.
When we were writing DUMPED, we had in mind the woman "who is not 22 any more, and the life she knows is over." We wanted to make her understand that this new chapter ahead is an OPPORTUNITY…not a tragedy.
But younger women are really responding to this book. Mothers are buying it for their daughters – husbands are buying it for their exes.
Why did you choose to write your book in the style that you did?
Again, a response to the stuffy books that we found when WE were recovering. We wanted a FUN, sassy, short weekend read…an empowerment bible that will get the women laughing at a time when they need it most.
We've touched a nerve with women everywhere with our no no-nonsense and RELATABLE attitude.
Do people take being dumped too personally? Should they?
Well, the point of our book is not so much about who dumped who. The point of our book is to MOVE FORWARD and really learn to take care of yourself. It's not JUST about WHO you want but WHAT you want post breakup…that is KEY to our message.
But, to answer your question, yes, people take being dumped very personally. And, hey, it's HARD not to.
Our job is to encourage the reader to put those emotions BEHIND her…forgive the ass, forgive herself…and enjoy her life again.
Is being dumped so difficult to get over because it's a hit on the ego or because you really don't want to lose the other person?
EGO. Let's face it. The guy did you a favour. Was he adoring you? Was he treating you right? Usually those answers are NO…and the red flags were there, right in front of you. You just did not want to see them. And that is why our individual stories are so interesting. Maryjane was dumped…but in time she learned that the ex had been treating her very shabbily…and she deserved better. Caryn Beth walked out on her 10 year relationship – still really tough on the ole ego and the fear of being solo. Takes balls! We're all about helping women get a set.
Also, people often stay in relationships because they are scared to death of being ALONE. Face your fears. Being alone can be a liberating thing. And finding the next person when you are REALLY in a state of joy…versus just LONELY…is the place to be for that next romantic chapter.
Do people usually see it or know deep down inside it's coming?
People usually know deep down it's coming. Why? Because there are usually "problems" that are not being talked about…or talked about too much and the two of you have forgotten to HAVE FUN with each other.
It's a kick to the ego to get dumped….but again…we remind our readers…and we say it on the cover "You would have dumped him and you know it. He just beat you to it."
Does getting over being dumped become easier the older you get?
No. Heart break is heart break.
And…often women, as they get older, stay with their partners because they are afraid to face being alone.
We encourage her to REINVENT HERSELF at any age…look at us, we're not 22 any more (though we look it) and have completely reinvented ourselves.
You are anti "closure", what's that all about?
By all means, check out our kick-ass trailer on that blasphemous word at www.dumped411.com. Closure is a WASTE of time….we hate the very concept of closure. Why? Because it is NEVER going to happen. Remember, when you approach that ex for closure, you are approaching him with an expectation. And they are NEVER going to meet them. Never. They are never going to give you the answer you need… they are never going to say, "I love you. I was so wrong. I will spend the rest of my life making up for this mistake." And really, if that ex came to you and said those things, would you really want them back?
What are your thoughts on sex with your ex?
The worst idea possible. DON'T do it. See our closure trailer. That's what WHORES are for!
What are your thoughts on giving second (or third or fourth) chances?
To quote Caryn:
"It's over for a reason — never look back. Although I dumped my ex after 10 years, he had dumped ME intermittently throughout the relationship. The first time was after five years. He wanted me back after a month and I went like a sucker. A friend looked at me like I was nuts and told me point-blank, "Don't do it! From here on out you're just gonna be 'love me love me, love me.'" I was furious with my pal and clearly I was terrified of being alone. So much so that I was willing to take the crumbs my ex dished out. My friend apologized and sent a gift but I'll tell ya… she was friggin' right. I never felt secure AGAIN. I was constantly begging for my ex's love and attention. I never knew when he was gonna drop the bomb again. Not a way to live. I had zero self-esteem and felt unattractive and insecure like you wouldn't believe — and I'm a confident, good-lookin' chick! What up with that BS???? After another five years of this nonsense I finally dumped HIS ass and I told my friend that she had been right all along. I apologized to HER. Once it's over — it's over. She got the memo and now I got it. There ain't no going back!"
Enough said.
Do you see your book as empowering to women?
YES. Empowerment and self respect is the MESSAGE!
What about men in all of this?
We LOVE men. And often, men love this book! There is NOTHING anti men about DUMPED. We just want our women readers to RAISE THEIR STANDARDS…and love themselves more. The more you love yourself, the more you will attract…the RIGHT kind of man.
What one message would you like our readers to leave with?
Be OPEN. Let go of "agendas"…and let the good times roll… cocktails anyone??
Maryjane Fahey and Caryn Beth Rosenthal are the co-authors of "DUMPED," a breakup bible for women to get off their asses and over their exes in record time. You can order it now — Tom Cruise already has …
Then like, tweet at, whatever them… they're very friendly.
http://www.DUMPED411.com
http://www.facebook.com/dumped411
Tweets by DUMPED411
http://pinterest.com/dumped/
[youtube height="HEIGHT" width="WIDTH"]http://www.youtube.com/watch?v=H3_acBo6vEo[/youtube]
More About The Authors
Maryjane Fahey
Maryjane Fahey is a writer, designer, and former serial
monogamist living in NYC. Her specialty has been journalism and editorial design, including the redesign of BusinessWeek and the Boston Globe, and the launch of Women's Health. MJ is a graduate of the School of Visual Arts and Newark School of Fine Arts. Newark has an art school, that's right — it's not just where the airport is. She has every intention of continuing her new career as a writer and absolutely no intention of being dumped again.
Caryn Beth Rosenthal
Caryn Beth Rosenthal, a former Benny Hill Babe, is an actress/writer who hails from Jacksonville, Florida. Her credits include animation, sketch, soaps, and regional and
Off-Broadway theater, including a solo show she wrote and performs in called Getting Over Mark, as well as numerous voice-overs and commercials. CB lives in NYC with her loyal mutt, Jax, an 8-pounder on wheels who thinks he's a 200-pound four-legged rottweiler. His credits are too numerous to mention.