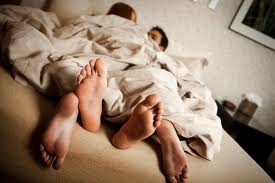 WARNING: EARLY HOOKUPS CAN KILL RELATIONSHIP POTENTIAL! by @DatingAdviceGrl
You've met someone new…someone that caught your attention immediately. You can't wait to get some one-on-one time with them, but should you follow your head or give in to your desire? Here's a situation that one of my single followers is going through that may cause you to think twice about giving in to your desire early on….
Dear Dating Advice Girl,
I met a guy two weeks ago at a friend's party. We got along well and at the end of the night my friend suggested that he give me a lift home. He did. One thing led to another and we ended up hooking up. A few days later he asked me out on a date. We went out to an amazing restaurant and the conversation was great. He came over afterwards, and we hooked up. Again. And it was awesome. Again. The problem is that since our date 2 weeks ago, I haven't heard from him at all. No text, nothing. Does that mean he's probably not interested? What do you think?
Anything could be going on with this guy this early on in a dating scenario. That is one of the major problems with early hookup scenarios…you don't know your love-interest well enough to know what he or she is thinking or what is going on in his or her life. Especially if we really like someone, the majority of us start trying to hypothesise, analyse, and speculate what our love-interest is thinking about us, feeling for us, wanting from us, and doing with us and potentially others. It can be difficult for singles to go with the flow, keep it simple, and avoid overanalysing these situations, which can make it hard to successfully navigate an early hookup with a new love-interest. This single girl's love-interest could be dealing with countless different scenarios, for example, he could have hooked up with her and decided he didn't like her, he could just be keeping her around as an 'in case of emergency' girl, or he could be dating other people. Unfortunately in this case, it doesn't seem like this single girl's guy is that interested considering that he's left her hanging for 2 weeks. That absence shows a lack of interest.
In terms of establishing a relationship with your hookup after you've hooked up, it depends. Are you only interested in a serious relationship?[/quote]on what you're going for….are you interested in just a physical relationship? Are you only interested in a serious relationship? There is no right or wrong here and there isn't one rule that works for everyone, however, I would suggest being cautious about rushing to get physical with a love-interest if you are looking for something serious. Yes, it is possible to build a relationship from a brief encounter, but it can be harder for you or your partner to get out of the 'hookup mindset' and see each other as more than just a good time. And as far as gender goes, guys typically like the thrill of the chase', so if he's gotten you too easily, he may lose interest quickly.
It's not impossible to transition into a relationship after an early hookup, but you both really
have to want to build something for it to work out. Above all, the important thing is to be choosey in regards to the people you are with, so that the odds are in your favor that you will connect with people that are in a similar place as you emotionally, physically, and spiritually. If this is your rule of thumb, you will be more likely to connect with someone that will treat you like gold, regardless of the length of the encounter or relationship.
Hugs,
The Dating Advice Girl